{event.name}
Lakeside Feed's Chick Day
4/13/19 10:00am - 4:00pm
Chick Day Information:
Chick Day at Lakeside Feed is Saturday, April 13th, 2019, 10AM to 3PM.
Join us for Chick Day! Come help us bring in the Spring with all the baby animals, Easter egg hunts, Easter bunny and of course all the baby chicks!! Food available for purchase all day.

Call in to order Chick Day t-shirt orders must be places by 3/19 $15.00 each, click here to see the Chick Day shirts
Click image to view larger!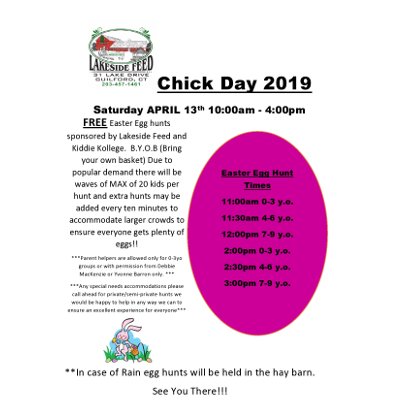 Looking to download or print our 2019 Chick Pre-Order Form? Click Here for our Pre-Order Form

We are constantly adding new specials to our site. Be sure to check back often!
About us
Lakeside Feed in Guilford, Connecticut has been supplying the right products to meet all your needs since 1999. Whether it's feed, grooming supplies, supplements, bedding, grain, hay, gift items or pet supplies, you're sure to find it here.