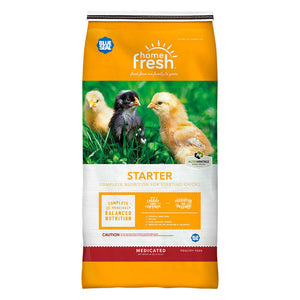 Blue Seal Home Fresh Starter AMP
---
---
Complete diet for starting and developing replacement chickens (pullets) and broilers. For prevention of coccidiosis where immunity to coccidiosis is not desired in pullets and in broilers.
Product Description
Home Fresh® Starter AMP Medicated is a complete, balanced, 20% protein, high-energy grain diet designed specifically for starting and developing pullets and broilers. Starter has guaranteed levels of essential amino acids necessary for growth and reproduction as well as healthy skin and feathers. Medicated to help prevent the onset of coccidiosis.
Features & Benefits
NutriVantage® Nutrition Optimizer®
A research-driven supplement designed to help birds derive optimum nutrition from their diet.
Complete and Precisely Balanced Nutrition
Optimum levels and ratios of nutrients help support and maintain overall health.
High Energy and Low Fiber
Whole grain-based diets support optimal growth and development.
Prebiotics and Enzymes
Multiple enzymes and a proprietary hydrolyzed yeast, aid in maintaining healthy digestion for sustained nutrient digestibility.
Essential Amino Acids
Quality protein is essential for growth and development, reproduction and support of healthy skin and feathers.
Phytase
Increases availability of phosphorus, calcium and energy to the bird.
Vitamin E and Selenium
Essential nutrients and powerful antioxidants help support the immune system, especially during times of stress.
Fixed Component Formula
A particular set of quality ingredients limited to a precise range ensures the product meets nutrient specifications at all times while providing diet consistency to support healthy digestive function.
Trace Mineral Amino Acid Complexes
Improved bioavailability of nutrients and allows optimum absorption, which may help birds cope with the challenging effects of stress.
Free of Animal Products
High-quality vegetable protein and fat sources provide the necessary protein and energy to meet bird requirements.
Medicated with Amprolium
For prevention of coccidiosis, where immunity to coccidiosis is not desired in pullets and broilers.
---
We Also Recommend