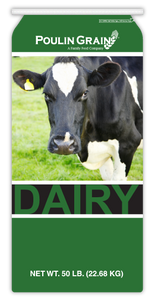 Poulin Grain Transition Complete Pellet
---
---
Designed and tested to provide your transition cows the best nutrition available today.
Organic selenium has been recently approved by the FDA. Sel-Plex® research shows an improvement in immune status, reproductive health, calf health and immunity and SCC. These benefits are valuable to your farm.

Research has shown that nearly half of all mastitis infections occur during a cow's dry or newly freshened periods. Supplemental antioxidants can help make your herd stronger and healthier.

Selenium is often used as a supplement to maintain and help build a strong, healthy immune system. It accomplishes this by preventing cell oxidation (cell breakdown).

For the dairy cow, an increase in dietary antioxidant intake can result in both a reduction in incidence and severity of mastitis.
---
We Also Recommend