Being a Purina Certified Expert Dealer means that we offer a complete line of quality Purina feed products and have knowledgeable associates who care first about our customers, and their animals. Training is a key element for our Certified Expert staff and you can depend on us for Certified Expert advice!
Expert Articles & Advice
September 1, 2014
Alvin, Simon and Theodore are great when they sing Christmas songs in harmony or star in movies, but their real-life versions can be pretty pestering when they are constantly near your birdfeeder and eating all the goods that you intended for the birds.
September 1, 2014
One of the greatest hardships as a pet owner is dealing with unwanted hair in your home. Nearly every dog or cat no matter what their age sheds. Some breeds shed more than others, but all pets will do it.
Special Offers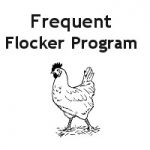 Each time you visit Lakeside and purchase a 50lb bag of any Purina SunFresh Feed, (including Layena®, Flock Raiser, Start & Grow, etc.
Purina Equine Videos
New Purina® SuperSport™ Supplement - Proven, Faster Recovery
Quick Contact & Hours
Tues - Fri
9:00 am - 6:00 pm